Musik der 60er Jahre
Toller Streifzug durch die Hits der 60er Jahre. Für Rock- und Pop-Fans, ebenso wie für die Blumenkinder seiner Zeit ist für jeden etwas dabei. Ein ideales Geschenk für die Motto-Party oder einfach für Leute die damals "jung und hübsch" waren. Das Klassiker-Album ist verteilt auf zwei CDs und nicht unbedingt preiswerteste der 60er Compilations. Dafür sind auch Songs der 60er enthalten die nicht unbedingt auf den Billig-Samplern zu finden sind.
---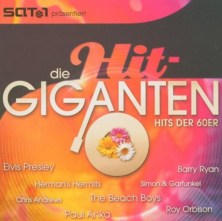 The Beatles - Ain't She Sweet
The Monkees - I'm A Believer
Herman's Hermits - No Milk Today
Barry Ryan - Eloise
Byrds - Turn! Turn! Turn!
Simon & Garfunkel - Mrs. Robinson
Zager & Evans - In The Year 2525
Chris Andrews - Yesterday Man
The Searchers - Needles & Pins
McCoys - Hang On Sloopy
Sam The Sham & The Pharaos - Wooly Bully
The Troggs - Wild Thing
Johnny Cash - Ring Of Fire
Bruce Channel - Hey Baby
The Swinging Blue Jeans - Hippy Hippy Shake
Del Shannon - Runaway
Pat Boone - Speedy Gonzalez
Beach Boys - Barbara Ann
Desmond Dekker - You Can Get It If You Really Want
Tom Jones - It's Not Unusual
Trini Lopez - If I Had A Hammer
Elvis Presley - In The Ghetto
The Tremeloes - Silence Is Golden
Sonny & Cher - I Got You Babe
The Lovin' Spoonful - Daydream
The Mamas & Papas - California Dreaming
Fifth Dimension - Aquarius
Scott McKenzie - San Francisco
The Turtles - Happy Togehter
Roy Orbison - Pretty Woman
Gary Puckett And The Union Gap - Young Girl
Paul Anka - Put Your Head On My Shoulder
Otis Redding - Sittin' On The Dock Of The Bay
The Righteous Brothers - Unchained Melody
Percy Sledge - When A Man Loves A Woman
The Tokens - The Lion Sleeps Tonight
Ben E. King - Stand By Me
The Animals - The House Of The Rising Sun
Procol Harum - A Whiter Shade Of Pale
Love Affair - Everlasting Love
Janis Joplin - Mercedes Benz
Donovan - Atlantis
---
Die Hit-Giganten der 60er Jahre auf CDs. Ideal für Oldie-Fans oder die 60er Party. Wer die meisten Titel schon sein eigen nennt, kann auch die fehlenden Titel als MP3 downloaden. Es ist dennoch eine teure Alternative da die Box knapp über 10 Euro kostet und die einzelnen Titel als Download über ein Euro teuer sind. Die CD-Box enthält einen schönen Querschnitt durch die 60er Hits, wenn auch der eine oder andere fehlt.
---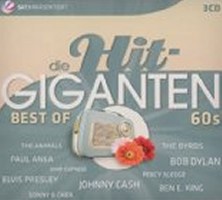 Elvis Presley - Suspicious Minds
Percy Sledge - When a Man Loves a Woman
Ben E. King - Stand by Me (Single Version)
Johnny Cash - Ring of Fire
Paul Anka - Diana
Ike And Tina Turner - River Deep Mountain High
The Archies - Sugar Sugar
Ohio Express - Yummy, Yummy, Yummy
The Easybeats - Friday On My Mind
The Everly Brothers - All I Have To Do Is Dream
The Cascades - Rhythm Of The Rain
Los Bravos - Black Is Black
Chris Andrews - Yesterday Man (Original)
Gerry & The Pacemakers - Ferry Cross The Mersey
The Ronettes - Be My Baby
Bruce Channel - Hey! Baby
Gary Puckett & The Union Gap - Young Girl
The Hollies - Bus Stop (Remastered)
Love Affair - Everlasting Love
Scott McKenzie - San Francisco
The Herman's Hermits - No Milk Today
The Beach Boys - Barbara Ann
The Monkees - I'm a Believer
The Byrds - Mr. Tambourine Man
Simon & Garfunkel - Mrs. Robinson
Bob Dylan - Lay, Lady, Lay
Big Brother & The Holding Company Feat. Janis Joplin - Piece of My Heart
Fleetwood Mac - Albatross
The Drifters - Save the Last Dance
José Feliciano - Light My Fire
Gene Pitney - Something's Gotten Hold Of My Heart
The Swinging Blue Jeans - Hippy Hippy Shake
Blood Sweat & Tears - And When I Die
The Fifth Dimension - Aquarius / Let the Sunshine In (The Flesh Failures)
Neil Sedaka - Oh! Carol
Pete Seeger - Where Have All the Flowers Gone?
Zager & Evans - In The Year 2525 (Exordium & Terminus)
The Tokens - The Lion Sleeps Tonight (Wimoweh)
1910 Fruitgum Company - Simon Says
The Flowerpot Men - Let's Go To San Francisco
The Animals - House Of The Rising Sun
Sonny & Cher - I Got You Babe
Otis Redding - (Sittin' On) The Dock of the Bay
Manfred Mann - Do Wah Diddy Diddy
The Crystals - Da Doo Ron Ron
The Lovin' Spoonful - Summer in the City
Trini Lopez - If I Had A Hammer
The Chordettes - Lollipop
The McCoys - Hang On Sloopy (Single Version)
The Small Faces - Lazy Sunday
The Edwin Hawkins Singers - Oh Happy Day
Donovan - Mellow Yellow
Bobby Vinton - Sealed With A Kiss
Chris Farlowe - Out of Time
The Lemon Pipers - Green Tambourine
Lee Dorsey - Ya Ya
Del Shannon - Runaway
Marmalade - Ob-La-Di, Ob-LaDa
The Shadows - Apache
The Yardbirds - For Your Love
Louis Armstrong - What A Wonderful World
Leonard Cohen - Suzanne
---
---
Musik der 60er Jahre
| | |
| --- | --- |
| Schlagerstars der 60er Jahre | |
| Die besten Schlager der 60er, 70er und 80er Jahre | |
| Der 60er Jahre Hitmix | |
| Die Charts der 60ziger | |
| Schlagercharts der Sechziger Jahre | |
| Die Nr.1 Hits 1960-1969 | |
---
---
Musikvideos der 60er